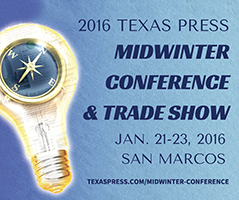 We look forward to meeting with newspaper publishers at the Texas Press Association Midwinter Conference and Trade Show on  January 21st!  If you're attending, please visit us in Booth #30 or contact us today – paulj@smalltownpapers.com.  Below is a communication that went to conference attendees.
Don't give up rights to your archive. Use it to generate new revenue!
Monetize your archive with advertising and promotion campaigns that give businesses an irresistible way to showcase their commitment to your community — sponsoring the digitization of your bound volume archive.
Discover America's Story was proven successful with The Mooreland Leader in northwest Oklahoma which completed digitization in record time, thanks to the large number of local sponsors who wanted to ensure their town's story and history was preserved and accessible. Here's what one sponsor said about the opportunity.
"The Discover America's Story program is something we felt very strongly about and we wanted to be a part of sponsoring the online archives so everyone can have an opportunity to read every issue of The Mooreland Leader since 1903. This is a great program."
Dirk Dewald, President
Central National Bank of Enid (Oklahoma)
Why give up your archive assets to a non-profit or governmental organization when you can make money with them? With Discover America's Story, you retain 100% ownership and revenue, and you control how your scanned archive is accessed. Contact us or visit us in Booth #30 at the Texas Press Association Midwinter Conference and Trade Show starting January 21st. We'll show you how easy it is to get started today.
Contact us by emailing Paul Jeffko at Paulj@smalltownpapers.com.